Core values and mission statements are not always something one can see brought to life. The new United Way of Cass-Clay building is one that not only brings the power of two organizations' values to life, but also creates a better tomorrow for the community. The power of partnership behind this project proves working together and believing in common goals can bring dreams to life. Roers helped build the structure that has endless opportunities for the community through United Way's mission. This partnership brings dreams to life.
The Dream of "Reaching Out" Comes True

United Way is ready to work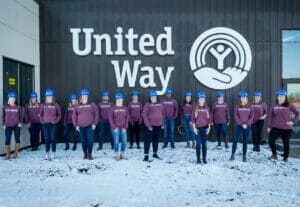 toward the goal of "Reaching Out." Their new building, "Reaching Out," is located in Fargo. It was completed in December 2020 and the team is settling into this community space. The name is meaningful as it reflects how United Way reaches out across Cass and Clay Counties to unite investors, volunteers and community members who need our help and support. Reaching out to bring our community together is how United Way creates the long-lasting change our community needs.
Partnership Brings The Project to Life
One of Roers core values is "partnership" and this is project is a prime example of how we utilize our core value to its upmost potential and it resulted in amazing results and overall success for our client and the community. The partnership aspect of this project began during the preconstruction phase of the project before any dirt was dug. The Roers team had the opportunity to partner with professionals from United Way, JLG Architects, and our M/E/P design build team to get the project kicked off. During construction, that project team met weekly to discuss pressing topics, keep everyone accountable, and maintained the project schedule.
"Roers has been a tremendous partner for United Way as we built this community space that will serve our region for decades to come. Every aspect of the building was intentionally designed for United Way volunteers, and will allow us to engage with our community in new ways that will ultimately help more of our neighbors in need. Our new home will be a community hub designed to bring together volunteers, investors, and community partners to create a better tomorrow for all of us."
-Kristi Huber, United Way of Cass-Clay President & CEO
This new space will efficiently meet the needs of the United Way team, but more importantly, will be able to host and engage volunteers, investors, and community partners for decades to come. Many businesses and donors, including Roers, came together with their dollars and expertise to create this amazing space. We invite you to learn more at unitedwaycassclay.org.
Roers Constructing "Reaching Out"
A few brief highlights to share include a Volunteer Activation Center, sponsored by First International Bank and Trust, which allows United Way to maximize trainings and on-site events for volunteers and community partners. In addition, the first thing our community members will see when they arrive is the Welcome Experience and Team Activation Center, generously sponsored by Border States Electric.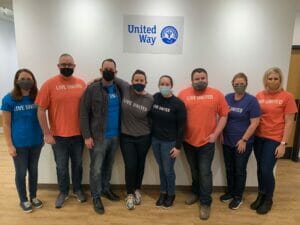 This build took place during the prime time of Covid-19. Fortunately, the Roers team members were able to stay safe and healthy and continue working to stay on schedule. Other than a few light fixtures, there were no delays on this project for materials as well. "It has been a great pleasure to get to know the United Way team and being a part of building their dream office," stated Dalton Olson, Roers Project Manager, overseeing the United Way of Cass-Clay project.
United Way is excited to celebrate the building's opening and share the internal space with the community when it is safe.
For more details on other Roers projects, please visit https://www.roers.com/projects/.