It's times like these that we all look toward something to believe in, see the positive, and seek moments where we see the power of people working together for the common good.  
Each and every day, United Way of Cass-Clay in Fargo is harnessing the power of community to create a better tomorrow for everyone. Their invitation and mission to LIVE UNITED resonates with the Roers core values of opportunity, partnership and community, and Roers is proud to partner with them on building a new home that will serve our community for decades to come.
A New Home for United Way of Cass-Clay Working at the Intersection of our Community
United Way works at the intersection of businesses, nonprofit partners, public organizations, and volunteers and individuals who have the desire to give back. "When it came time to select a location for the new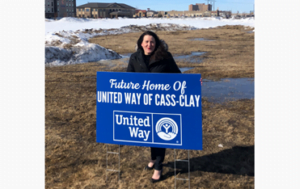 home of United Way, being at the intersection of our community, was key," said Kristi Huber, United Way of Cass-Clay President & CEO.
Back in March of 2020, United Way announced the location of their future home during their LIVE UNITED Awards and Annual Meeting via this video shot at the build site. It truly is at an intersection – near where interstate 94 meets 45th Street at 4351 23rd Ave. S., Fargo.
A Building Design to Reach Out to the Community
"Reaching Out" was selected as the name to reflect how United Way is always reaching out to the north, south, east and west – across Cass and Clay counties.
"Reaching out is a name and a philosophy our United Way team and partners embrace every single day," said Huber.  
United Way of Cass-Clay reaches out:
– to those in need
– for new solutions
– to make connections
– for support
– to LIVE UNITED
In 2020, United Way is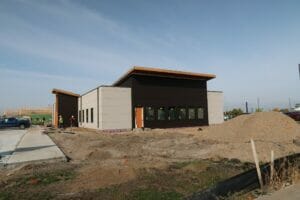 reaching out to the community and shining a light on homelessness. Here in our local community, each night, more than 1,022 people are homeless. In addition, it is estimated that of the people who are homeless in our community, 23% are children. This powerful video shows the true struggles faced by so many families in our community, and the opportunity we have to help them at their point of need, changing their path and future forever.
United Way's goal is to prevent 90% of children and families from becoming homeless by 2020. An investment of $720 could prevent one family from becoming homeless. We invite you to learn more and give at unitedwaycassclay.org.
A New Hub to Bring the Community Together
To continue their important work to help those in need, the United Way team is set to move in before the end of 2020, and will begin utilizing this thoughtfully planned space as a hub for bringing our community together. This space will support the needs of our growing community, and maximize the positive change United Way is able to create. Every aspect of the building was intentionally designed by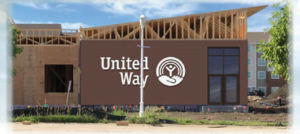 JLG Architects and built by Roers, and will efficiently meet the needs of the United Way team, volunteers and community for decades to come.
"We are so grateful to the entire Roers team, and the expertise and knowledge they provide. Roers has been tremendous partners for us during the design and planning of this project. We are so excited to have Roers build our new home," said Huber.
Generosity from the Community Makes it Possible
United Way could not have achieved this goal without the support of generous partners and donors.
A lead gift from Border States Electric, and members of their leadership team will create an amazing Welcome Experience for volunteers and inspiration in our Team Innovation Center. A generous investment from First International Bank and Trust, will allow United Way to maximize their trainings and on-site events in the new Volunteer Activation Center.
United Way has a full list of all of the generous partners who made this project possible here.
The Future of LIVE UNITED is Taking Shape 
In October, the building continued to take shape, and is now visible from interstate 94. "We look forward to keeping our community included on the progress of this project, as we want you to feel that this is your new home as well.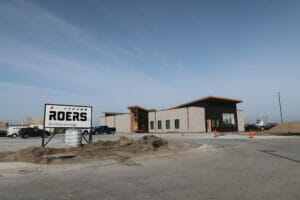 We are excited for the work that will be done together – with you – in this new space," said Huber.
Reaching out and remaining connected is what will make a better tomorrow for everyone across our community. On behalf of the thousands of individuals and families who are helped by United Way, we are thankful for all that our company and our communities do to LIVE UNITED. When we work together, we are unstoppable.