By: Christen Joy 
Today with the warmer weather in the air, I am excited to share some of our outdoor spaces at The View on University.  I know the Roers team is counting down the days till they can have residents and friends enjoy these awesome amenities.  
THE SPACES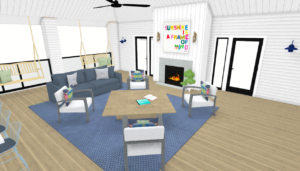 Whether there's the first sign of green grass poking through melted snow or the first snowflake in the air – The Three Seasons is where you'll enjoy the outdoors from spring into late fall. With a cozy double-sided fireplace and several heaters to keep you warm, you'll find seating options for just about every wish from gathering friends to quiet alone time. There's no better place to cozy up with your morning coffee or to enjoy a sunset before heading to dinner. Stay in for any event and watch the indoor/outdoor TV with plenty of space to invite friends over.  
Head over to The Rooftop  – an area for unobstructed views with a clear glass railing system — and no roof. This is the spot to prep your delicious burgers and throw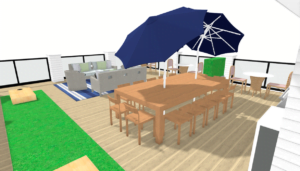 them on the grill. Your friends can sit, sip, and talk with you while you grill at the large island in the outdoor kitchen.  
You can enjoy the burgers at the bar top or grab another spot depending on whether you want views of what's happening around campus or more comfy seating to chill. Either way – The View On University has it! In the mood for a game? Challenge friends to a game of bags — it's just one of many to choose from.  
The Three Season and The Rooftop give you the space to live large! Expansive yet secluded with mature shade trees, singing birds and warm summer breezes make both the perfect spots for an afternoon nap or place to relax or catch some rays. These comfort retreats are sure to be another favorite that The View On University has in its amazing list of amenities to enjoy.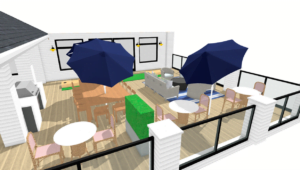 THE ROOFTOP SUMMARY 
Located on the 5

th

 floor adjacent to the Three Seasons room

 

Grill

 

Multiple table and chairs

 

Gaming area/Bean bags

 

Exceptional view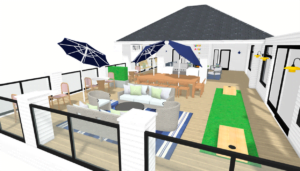 THE THREE SEASONS SUMMARY
Located on the 5

th

 Floor between The Clubhouse and The Rooftop 

 

Available spring through late fall

 

Fireplace

 

Multiple areas to sit with groups or to relax 

alone

 
I hope you enjoyed these awesome "views" and look forward to sharing our next common spaces The Study Rooms in the next blog.  
Till Next Time,   
Christen Joy  
Follow Christen Joy for ongoing updates on this project and more – Instagram and Facebook or or online at LiveChristenJoy.com 
*Roers is still in the planning phases and some selections may change.