By: Christen Joy
The View is in full construction mode, and I am here to give you a sneak peek into one of our first common spaces The Clubhouse.  
THE SPACE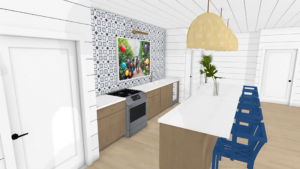 You walk into The Clubhouse on the 5th floor and are greeted by impossible to ignore large windows that feel like a big city high rise. The spectacular views are hard to beat. After the stunning views you'll notice your surroundings when your eye is drawn to pops of intentional colors balanced with walls shiplapped to high vaulted ceiling and gorgeous hardwood-inspired floors in a perfect shade to balance any color.
The Clubhouse features a kitchen area that is home to an oversized custom island lined with comfortable stools and a brass foot rail for relaxed comfort. A cook top and an oven are ready for cooking classes or hosting friends. The beverage fridge is the perfect size to store items as you prep. The space comes to life with larger-than-life artwork that's full of personality, joy, and laughter.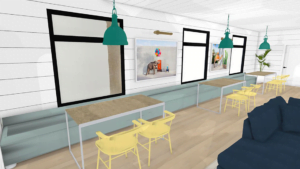 As you gaze over, you'll see ample seating with a bench over 20' long layered in comfortable pillows with three large tables eager for you to join. Push the tables together for a large gathering or keep them separate for personalized groups. Either way – you have space to host any event you want. Plus, your guests won't stop raving about the views, the vibe and the warmth in this space – it's absolutely stunning framed in beautiful dark brass. Picture perfect!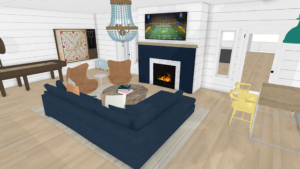 Of course, you don't need to entertain to enjoy this space. You can flop down on the large sectional or cozy swivels. The TV is there to watch and the double-sided fireplace is ready to be lit. The cherry on top in this space? I can't decide if it's the stair-stepped custom fireplace surround or the 48" chandelier!  
Be warned however, someone may challenge you to a game if you sit too close to the wall-mounted scrabble board. The 5-foot wide by 4-foot-tall board could have you itching to school your friends with your mad spelling bee skills. Not your thing? Head to the shuffleboard or ping pong table. You're sure to find a way to connect with your community at The View On University.
THE CLUBHOUSE SUMMARY
Located on the 5th Floor adjacent to The Three Seasons
Open year-round
Fireplace
Pool table
Multiple areas to sit with groups or to relax alone
We hope you enjoyed seeing the look and feel of The Clubhouse and all it will offer for residents at The View On University. In my next post, we will be previewing the common spaces of The Rooftop.
Till Next Time, 
Christen Joy
Follow Christen Joy for ongoing updates on this project and more – Instagram and Facebook  or online at LiveChristenJoy.com 
*Roers is still in the planning phases and some selections may change.