"Every project comes with its own challenges, and Missouri Slope was the largest project I have taken on.  With the new opportunity, I was excited to start long before the project officially began.
Missouri Slope has an updated, unique design that centers around a "core" of the building for staff to serve the resident wings. In my mind I viewed it as five separate buildings, and would explain it as such to all subcontractors coming on-site, so they were not overwhelmed by the sheer size of this project.
We came in aggressive and self-performed the foundations for the first wing, this proved to be the most difficult wing on the project. It is the deepest area of the project, and there we discovered a vein of water that flows from that corner diagonally across the footprint of the building. During this portion, we were constantly working in the water.
After a month of excavation and forming, we had a snow event that drifted in over 6-feet of snow. I was hands on from the start, providing layout, tying rebar, building temporary access roads for ready mix trucks, and pouring. Whatever was needed to continue work was done.
The foundations are my favorite part of any project, and I'm thankful that we were able to make it past the various hurdles sent our way.
Once we were past the first wing, our foundation subcontractor came in with a small army of 18 men. As they progressed further into it, another dozen came in to start setting the steel and precast. It was great feeling to see a sizable crew join us and get after the project. Roers is a very hands on company, we self-perform from ground up. At first, it was difficult to let these guys run with it without comparing how we would typically approach tasks.
The plumber was the first individual on the job. He came on the project very early to start doing plan reviews and prefab in the basement of the existing building, where we had a great office space set up. Had he not been on-site I would've been the Lone Ranger for quite a while before more crews started showing up."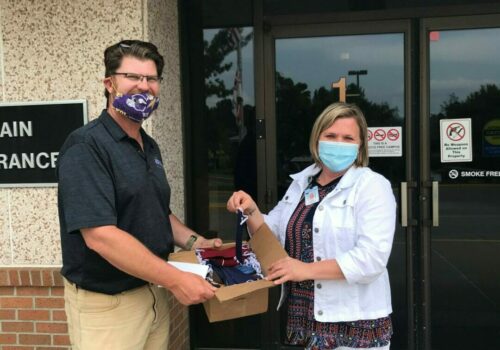 "I don't like to go down the pandemic road, but how can you not address it. It was difficult, to say the least. Times were uncertain long before it reached the states. The state health department tried to close down the project site.  I had a feeling of pride that Roers was able to keep the project moving, keeping people at work. We were one of the few companies lucky enough to not go through a shut down, but others didn't share the same view. People in the field wanted direction. They wanted answers, as did I, but no one had them at that time. We were all in tune with the hourly news with concerns of them closing state borders or interstate travel. It all seems so long ago, and ridiculous now, but the fear was real . The Covid task force Roers came up with was amazing and was able to calm everyone in such a short time. Knowing it's being addressed at our top level of management eased the strain on everyone. I could go on with multiple stories of conversations, conflicts and incidents, but overall, Missouri Slope has been such a positive project and I don't like to dwell on that era of the project.  However, it still had a tremendous impact on myself and the project overall.
I do have to mention one comical memory: While driving on the interstates, the rest areas were closed, but still they placed portable toilets out for travelers to use. It's an example of how unprepared we all were for such a catastrophe."
"Looking back it seems every month brought a milestone, deadline, a new trade on-site, or unforeseen challenges, most often it was the weather.
I have worked with multiple subcontractors over the years, everyone involved in the field can attest to some of the difficulties some trades may bring with them .
At the end of Slope, I look back and can honestly say I have not worked with a better group of trades. 
I feel as though I'm making a large leap to the end here, but to sum it all up this has been one of the most gratifying projects I've been tasked with. Not just the project itself, but working alongside the team of individuals Roers put together to make it happen."
-Philip Keller, Superintendent