North Dakota State University Bison Sports Properties and Learfield/IMG College have named Roers as the Official Housing Sponsor for North Dakota State University (NDSU) Athletics for 2020-2021.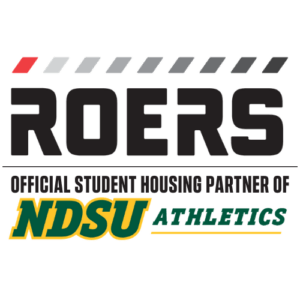 Long Lasting Partnerships
"We are thrilled to have Roers as the Official Housing Partner of NDSU Athletics. The partnership will help provide NDSU students and student athletes with great year-round housing options." commented Josh Hartman, General Manager for Bison Sports Properties.
"We are so proud that NDSU Athletics trusts Roers to provide an excellent housing experience for students and student athletes, said Madison Maides, Roers Property Management General Manager. "We strive to be able to provide a place for NDSU students to call home while they pursue their academic and athletic goals. We are so proud to be the official housing sponsor and we will continue to provide an outstanding experience at our properties to all residents who choose to live with us."
Housing Designed & Constructed For Students
Roers has offered premier housing for NDSU students, staff, and faculty for more than 20 years. "Not only do we manage these residential properties, we designed and built many of them, all with input from students on what they desire for amenities," commented Danielle Paulus, Chief Operating Officer at Roers.
Choosing to live with Roers has so many benefits, including the proximity to campus but also the lifestyle inclusions are unending. Residents can choose from a variety of all-inclusive amenities such as – fitness centers, yoga studio, indoor swimming pool, hot tub, sauna, private or group study rooms, game rooms, lounges, dog spa, outdoor patios, fire pits or fireplaces and so much more. The Roers team also provides a warm and inviting community for residents with social events, virtual activities, food trucks (who doesn't love free food?), a loyalty program with perks from local businesses as well as numerous giveaways throughout the year.
Roers offers a variety of housing options from apartments, townhomes, multiplexes and single family homes. Many of these properties have are very close the NDSU campus are T Lofts, SGC Apartments, Roosevelt Townhomes, U32 Apartments and The View On University which is under construction and leasing for July 2021.
For more information about Roers please visit www.roers.com. For information about living at one of our properties or to set up a tour, please visit https://www.roers.com/residential-properties/ or email propertyambassador@roers.com.