Roers recently announced it has closed on the sale of U32 Apartments and T Loft Apartments in Fargo, ND.
In 2005, Roers brought the concept of premier private student housing to North Dakota State University and has become the leader of off-campus student housing with top notch amenities, security, and all-inclusive rent payments. Between T Lofts and U32 Apartments these projects have provided 414 units of premier housing to the North Fargo community. The Roers team developed, constructed, and managed T Lofts and U32 Apartments. During this time, the team served thousands of residents with a premier living experience and had the opportunity to be a resource for college students to have a great living experience right next to campus.  "With the recent success of leasing our buildings with over 95% occupancy rates, we were aware these properties were in optimal position to sell, especially with the current low interest rate environment, commented Danielle Paulus, Roers Chief Operating Officer.
HB Ledges Management, based in Arizona, has taken over ownership and property management of both properties. HB Ledges has experience in student housing and is excited to invest in North Dakota. The Roers team will continue to be a resource for the new owners as consultants during the first year.
"We are excited to be investing in the Fargo market and look forward to continuing the premier experience Roers provided at the buildings," said Howard Berger, Managing Director for HB Ledges.
T Lofts is located across
from the NDSU campus just off 12th Avenue. Built in 2012, the property has 181 units and is equipped with amenities perfect for students to enjoy from fitness rooms, study rooms, lounge with billiards, and underground parking. All amenities plus air, heat, internet, and cable are all included in one bill for added convenience. Students transitioning from on-campus living find T Lofts an excellent option as it is within walking distance to campus and many other local attractions in North Fargo.
U32 Apartments  was built in 2017 and has 233 units.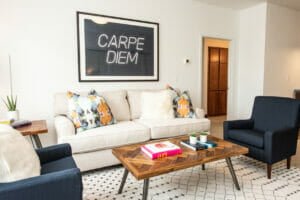 U32 is known as Fargo's first amenity-rich, lifestyle-driven, all-inclusive living experience. Some of the sought after amenities include state-of-art fitness center, outdoor courtyard with basketball court, beach volleyball court, patio grill, and fire pit areas, indoor swimming pool and hot tub, sauna, racquetball court/yoga studio, community lounge, study rooms, underground parking and more. U32 is located at 1151 32nd Ave N in Fargo.
Jim Roers, CEO of Roers, is excited as he looks forward to the next development. "This is a wonderful opportunity for Roers to take this success and invest back in the community with future projects. We have excellent opportunities for additional projects near campus and throughout this community and we are already working behind the scenes to determine our next steps," Roers commented.
Roers currently manages properties for outside owners as well as owns and leases various properties including apartment complexes, several townhomes and single-family homes throughout the Fargo-Moorhead and Dickinson communities. 
For more details on Roers including development, construction, property management or real estate, please visit roers.com.