The Cape at Savona Point, is located in Cape Coral, Florida. Imagine living in this gorgeous community with 21st amenities and resort-style perks. Every day would feel like a vacation!
Roers Development recently completed this project in Cape Coral, Florida. We visited with Matt Nygard, Property Manager for Roers Development,  to get the inside scoop now that construction is complete.
What percentage is the facility completed construction wise?  Construction is 100% complete at The Cape of Savona Point. All amenities and units are completed and fully available. The total project took about 17 months and was completed 6 months ahead of schedule.
What comments are you receiving from current residents? The reviews from the residents are excellent. The common phrase is "It has a resort like look and feel."
What are some key selling features to highlight?  The apartments have a grand feel with 9-foot ceilings, backsplashes, and tiled showers. We have beautiful views of the pond and fountain. The fitness center and yoga studio have workout equipment for most types of workouts. There are lighted walking trails, dog parks, pickle and basketball courts. You can check out the other great amenities here.
The Cape at Savona Point was an interesting project for Roers Development due to the distance factor. Roers Development is based in Fargo and The Cape at Savona Point is in Florida, a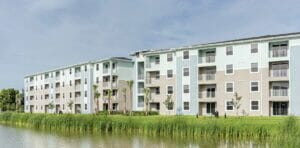 mere 2,000 miles away. Roers Development was able to manage the project and create strong partnerships with the contractors during the construction.
The complex is a perfect fit for those focusing on fitness, wellness, family, and uncompromising convenience. For more information about Cape at Savona Point please visit, www.capeatsavonapoint.com.