By: Christen Joy
As we get closer to the construction completion of The View on University Apartments, I am getting more pumped to move into the space and share all the beautiful common spaces the property has to offer.
In 2020 we learned that you must learn to work and play at HOME, so let's give you a sneak peek of the study rooms that can be used in endless ways. From studying for a big test, to jumping on a Zoom call with friends across the country, we have you covered.
THE SPACE
In our building we have five study rooms that range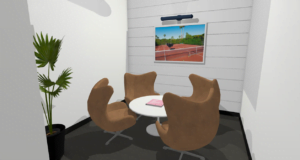 from small to large. These spaces are designed for one person curling up with a book, hosting a group, or a Zoom call with friends to cram for an exam. They feature comfortable soft seating options or chair and table sets. You choose the space that fits you best based on your mood or the number of people you need to host. Beyond just a room with a tables and chairs, the welcoming decor will motivate and uplift your mood, bringing a smile to your face. The study rooms feature shiplap walls and wallpaper and fun irreverent artwork to make quiet time alone more comfortable, and group projects feel less like work and more like building pride in teamwork and accomplishment.
STUDY ROOMS SUMMARY:
Large Study Rooms located on 2nd and 3rd floors
Medium Study Room located on 4th floor
Small Study Room located on 2nd, 3rd and 4th
Relaxing environment
White boards
Comfy seating
Flexible space to do your best work.
In upcoming blogs, I will be previewing the design of our pet spa, The Bark Room. You and your pets are going to love it!
Till Next Time, 
Christen Joy
Follow Christen Joy for ongoing updates on this project and more – Instagram and Facebook  or online at LiveChristenJoy.com 
*Roers is still in the planning phases and some selections may change.