By: Christen Joy 
The warmer weather is here and the Roers team is in full swing of construction over at The View On University Apartments. It has been fun to see prospective residents coming to the site for Hard Hat Tours and watching the Roers leasing team fill up the building. If you haven't stopped over to talk with Roers about making this property your home… hurry up and give them a call! 
One of my favorite rooms to design was the 5th Floor Pet Spa and I can't wait to give you a sneak peek.   
THE NAME 
We knew that this space needed a fabulous name, and so we got creative and even came up with our own logo. We believe your pet only deserves the best, and so why not have its own club… The Bark Club.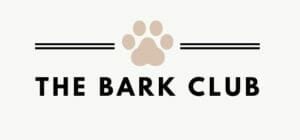 THE SPACE 
If your first greeter on floor five has a wagging tail, you're at The Bark Club — dog spa! Yes, The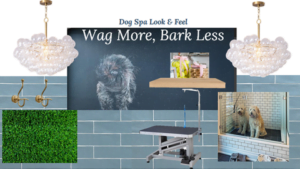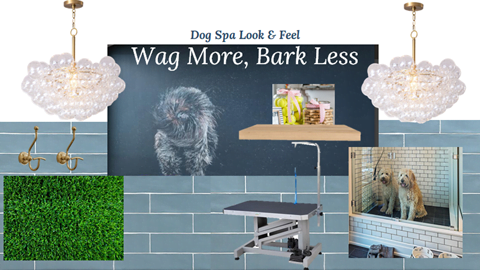 View On University has it's own dog spa – because the complex is pet-friendly. How's that for convenient?! At The Bark Club your pup gets to choose from two large tubs for his or her luxurious bubble bath. These tubs fit any size pooch and no worries about that sure to happen 'shake off' post bath as the walls are up to the task because they are lined in white subway like tile. After the soak and shake, simply head over to the dryer stands for a blowout. And we thought of everything for you and your bestie — faux green grass for any bathroom needs. Truly a space made to support you and your pets so they can live their best life – wet nose to wagging tail.   
The Bark Club Summary 
Located on the 5

th

 Floor

 

Multiple Dog Washing Stations

 

Safe Drying Area

 

Pet Relief Area

 
We hope you enjoyed learning about The Bark Club and we cannot wait for all our new residents and their pets to enjoy the space. Next time, we will share details about The View On University's fitness space. 
Till Next Time,  
Christen Joy 
Follow Christen Joy for ongoing updates on this project and more – Instagram and Facebook  or online at LiveChristenJoy.com